Black Heron is a boutique winery and distillery located in West Richland, Washington dedicated to a hands-on approach when crafting fine wines and spirits. 
Whether wine or spirits, all products begin with an end goal in mind in terms of flavor, aroma and balance from winemaker, distiller and owner, Mark Williams. 
2017 CABERNET SAUVIGNON
Heart of the Hill Vineyard
Red Mountain

This beautifully ruby Red Mountain Cabernet Sauvignon begins with firm yet supple tannins that gracefully coat your palate and delights your taste buds with flavors of cherries, licorice and smooth vanilla on toasted oak and ends with a firm dry finish. Pair with red meats and delectable artisan cheeses.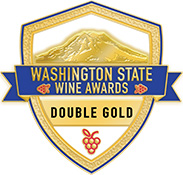 Winemaker's Notes
This 2017 Red Mountain Cabernet Sauvignon began its journey from vine to bottle on October 13th, 2017, when 2.21 tons of fruit arrived for crush.  
Primary and secondary fermentation took place until January 13th, 2018, when it was barreled and aged until May 20th, 2019. Cellaring and small adjustments were made until bottling took place on August 26th, 2020.
ACCOLADES
Double Gold, Score of 97
2022 Seattle Wine Awards
Gold Medal -2023 Cascadia International Wine Competition
TASTING NOTES
This beautiful ruby Red Mountain Cabernet Sauvignon opens with flavors of cherries, licorice and smooth vanilla, followed by a hint of mint and thyme.  
Blackberry and currant aromas balance the sensation of supple tannins, delighting your palate through a long finish.
PAIRING SUGGESTIONS
The cool vintage shows itself by highlighting the structure of Cabernet, making for adventurous pairings with pesto, creamy pasta sauce or chicken fajitas. 
SIP OR SAVE?
Cooler vintages such as 2017 invite longer aging times with regular analysis. 
We recommend you open the first bottle in 2023, and one each subsequent year for comparison, as this wine will transform and mature significantly each year.
CASES PRODUCED
125
LOOK FOR the BLACK HERON FAMILY OF FINE WINES AND SPIRITS
2017 Cabernet Sauvignon
Red Mountain AVA
2018 Cabernet Sauvignon
Red Mountain AVA
2018 "Treasure" Red Wine
Red Mountain AVA
2018 The Immortal Ruby Syrah
Fortified Dessert Wine
Columbia Valley
American Single Malt Whiskey
Peated American Single Malt Whiskey
Bourbon Whiskey
Lemoncello
Maple Flavored Whiskey